What's New at the Academy
Our next session of classes will begin the week of May 28th, 2018.
Click Here to View the Class Schedule:
Obedience
Agility
Showing Handling/Conformation
Puppy Head Start
Fun with Tricks Class
Canine Good Citizen
Nose Work Classes
---
The Academy Gets Social
Read our Newsletter, The Academy Times, by Kristin Anderson, our Social Media Manager
Check us out on Facebook:

Follow us on Twitter:
Follow @AcademyofDog
Click to join ADTAAgility
Do to the OVERWHELMING Positive Response we are forced to stop taking anymore evaluations at this time. If you have already signed up or called YOU ARE STILL ON THE WAITLIST. The waitlist has grown to 2-3 months back log. We have only 4 evaluation/lesson slots available per week. The rest of our slots are filled with existing clientele of independent swimmers. Please check back in the summer months to see if we have more slots available. Thank you for your interest and support.
The Swimming Paws is Getting Dogs Wet
Taking Reservations, Call
302-588-POOL (302-588-7665)
Check out the latest reasons and videos why dogs enjoy Swimming Paws!
The Swimming Paws Canine Swim Club is getting many breeds into the water, helping the dogs with cardiovascular conditioning and even conditioning their coat and skin.
Call 302-588-7665 or fill out our online Sigh Up Form to schedule a swim evaluation, and Carrie will help teach your dog how much fun swimming can be!
Latest at the Academy
Our next session of classes will begin the week of May 28th, 2018.
Click Here to View the Class Schedule:
Obedience
Agility
Showing Handling/Conformation
Puppy Head Start
Fun with Tricks I Class
Fun with Tricks II Class
Canine Good Citizen
Canine Good Citizen Advanced
Nose Work Classes
We Need a Few Good People
The Academy needs a few well qualified people to aid in group instruction in Obedience, Agility and all other classes we provide.
WELL QUALIFIED MEANS: EXPERIENCE IN COMPETITION OBEDIENCE, CD AND CDX, ETC.RALLY OBEDIENCE, TREIBBALL, NOSEWORK, ANY OR ALL OF THE ABOVE, GREAT PEOPLE SKILLS, PREVIOUS EXPERIENCE A BIG PLUS ALL ACADEMY STAFF PERKS WILL BE PROVIDED- EG. FREE CLUB MEMBERSHIP, CLOTHING, SWIMMING, CLASSES PRE-APPROVED SEMINAR FEES IN RELATED CLASSES, TRAVEL COMPENSATION FOR CLASS TIME
Please call Carrie at 302-588-7665 for initial phone interview and possible meeting for further selection.
Our Mission
TEAM PERFORMANCE IS OUR MISSION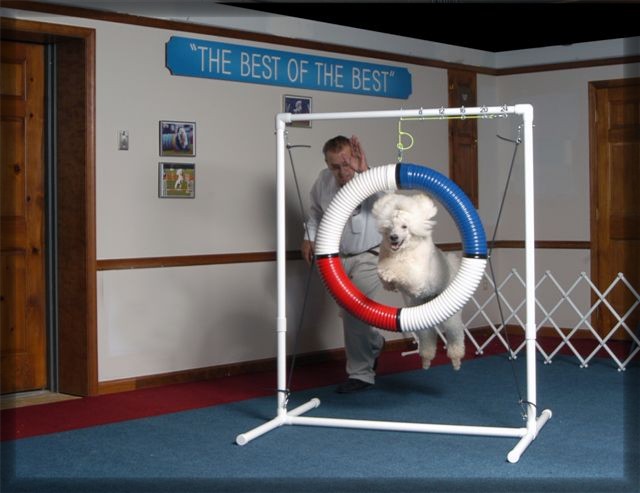 Because your dog did not ask to be here, it must be fun for the dog and handler or behavior will not be shaped.
"ONLY POSITIVE NEVER PUNITIVE TRAINING METHODS ARE USED"
The Academy of Dog Training and Agility is built on the belief that:
"8 Weeks of training is better than 8 Years of wishing you had."
Our training methods are always positive reinforcement, to shape a positive behavior. We feel that punitive methods tend to weaken the bonding process that is fundamental to the dog/trainer relationship. Praise, food and clickers are used. It must be fun for both dog and trainer or no real learning takes place.

We believe that our facilities are the best in the tri-state area. The indoor facility is fully matted with state of the art shock absorbing non-slip rubber flooring The training center is 5,000 square feet, well lighted, heated and air conditioned.
Don Brown

We are Unique
WHY SWIM YOUR DOG?
There are so many reasons; swimming is a non-weight bearing activity. The dog will build muscle without overtaxing joints and bones. The water temperature is kept warm. This is soothing and relaxing for the overall wellbeing of the dog. Our pool water is pH-balanced with mineral additives to promote healthy skin and coat. Swimming improves flexibility and range of motion. Cardiovascular health is as important in our dogs as it is for us. A 15-minute swim is equivalent to a 1-mile run.

WHAT DOG SHOULD BE SWIMMING?
Over weight dogs
Dogs with joint and muscle issues
Over active dogs
Dogs building muscle tone
Young dogs as early as 4 months
Dogs with arthritis
Dogs Pre and post surgery
Dogs that just love their owners

CROSS TRAINING:
Show dogs; Obedience dogs; Agility dogs; Frisbee dogs; Fly ball dogs; Freestyle dogs; K-9 dogs; Tracking dogs; Therapy dogs; Retrieving & Hunting Dogs; Even couch potato dogs.