Swimming Paws Canine Swim Club
Swimming provides impact free cardiovascular exercise.
The purpose of the "Swimming Paws" Swim Center is to provide a state of the art year round swimming facility for our dogs. The pool is 25' x 15', it is solar heated (with back up heat when there is no sun). The decking and stairs are safe slip proof materials. "Swimming Paws" provides scheduled evaluation of your dog's water abilities, swimming lessons if needed, and swim time.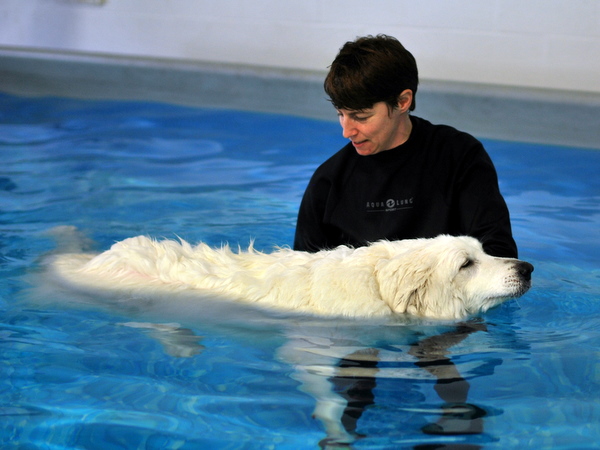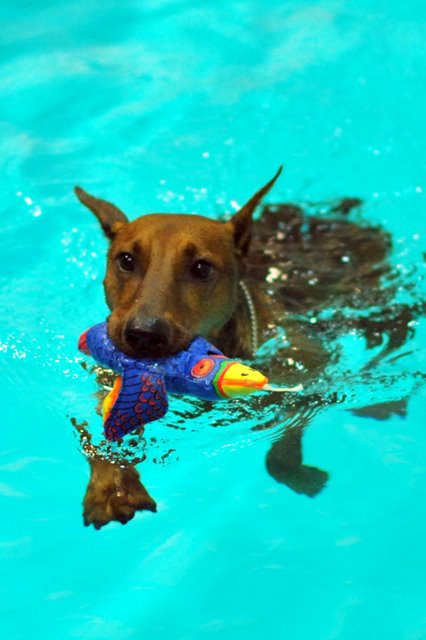 SOME OF THE BENEFITS OF SWIMMING YOUR DOGS ARE:
Swimming provides impact free cardiovascular exercise. 15 minutes of swimming is the equivalent of a two mile walk.
All major muscle groups are involved in swimming providing shaping and toning, thus increasing strength and support for joints and ligaments.
Swimming is a great release for toxic energy. Swimming burns this energy leaving the dog more relaxed and then able to interact with his family in a better way.
Swimming helps with weight management along with diet in over weight dogs.
Can provide buoyant range of motion improvement in convalescing dogs. Talk to your Veterinarian.
Canine athletes after trials and shows can get the benefits of the warm pool water to sooth muscles and joints.
Most dogs just plain enjoy the water and will swim willingly.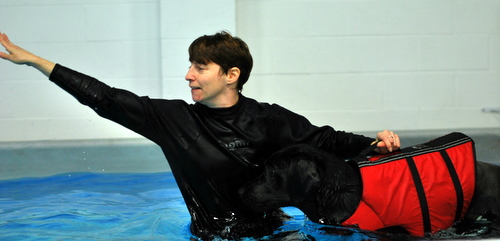 What's New at Swimming Paws:
After undergoing hip surgery Gatsby takes swimming lessons to relearn to use the muscles of his left leg. He now loves swimming.
---
TO BEGIN GETTING YOUR PAWS WET:
Making an appointment for an initial swimming readiness evaluation. Click here to fill out a Swimming Evaluation online.
If your dog needs swimming lessons they are available with our swim coach.
If your dog is viewed as a swimmer you can then schedule swim time monitored by our lifeguards.
Life vests are available if required for non-swimmers at the start of lessons or for geriatric dogs who need a bit of help.
---
Watch Trinity & Briscoe show you how much they enjoy Swimming Paws!
---
Owners are not allowed in the pool, but are encouraged to join the dog on the deck and throw toys, etc.
Wash and dry area provided (bring your own towels).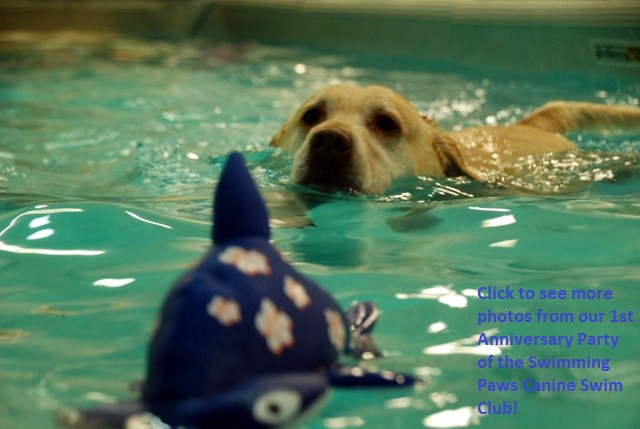 CHARGES AND FEES:
EVERYONE MUST HAVE AN INITIAL SWIM EVALUATION!!!


CHARGES AND FEES:
EVERYONE MUST HAVE AN INITIAL SWIM EVALUATION!!!
45-MINUTE INITIAL EVALUATION SWIM (MANDATORY) See Note Below **
$40.00 per dog
45-MINUTE ASSISTED SWIMS, PACKAGE of 4
4 SWIMS for $160.00
20-MINUTE ASSISTED SWIM PACKAGE of 4
4 SWIMS for $140.00
20-MINUTE UNASSISTED SWIM PACKAGE of 4
4 SWIMS for $100.00
20-MINUTE UNASSISTED SWIM PACKAGE of 10
10 SWIMS for $200.00
20-MINUTE UNASSISTED SWIM PACKAGE of 20
20 SWIMS for $300.00

** Do to the OVERWHELMING Positive Response we are forced to stop taking anymore evaluations at this time. If you have already signed up or called YOU ARE STILL ON THE WAITLIST. The waitlist has grown to 2-3 months back log. We have only 4 evaluation/lesson slots available per week. The rest of our slots are filled with existing clientele of independent swimmers. Please check back in the summer months to see if we have more slots available. Thank you for your interest and support.

Due to the high demand for swimming time slots, we must implement the following cancellation policy:

MUST GIVE 48-HOUR NOTICE.
Less than 48 hours notice will cost $10.00, to be paid at next appointment.
Less than 24 hours notice, you will lose one swim.
No Call - No Show, you will lose your swim and your standing appointment.

Three ways to contact the instructor:

Best way: Phone 302-588-POOL (7665)
2nd best way: Text same number as above.
3rd best way: E-mail swimmingpaws@gmail.com



Swim a second or third dog for $7.00 extra per dog. Paid at the time a 10- or 20-swims package is purchased. Dog must have the same owner.

Members of the Academy Club will receive a 10% discount on the above rates.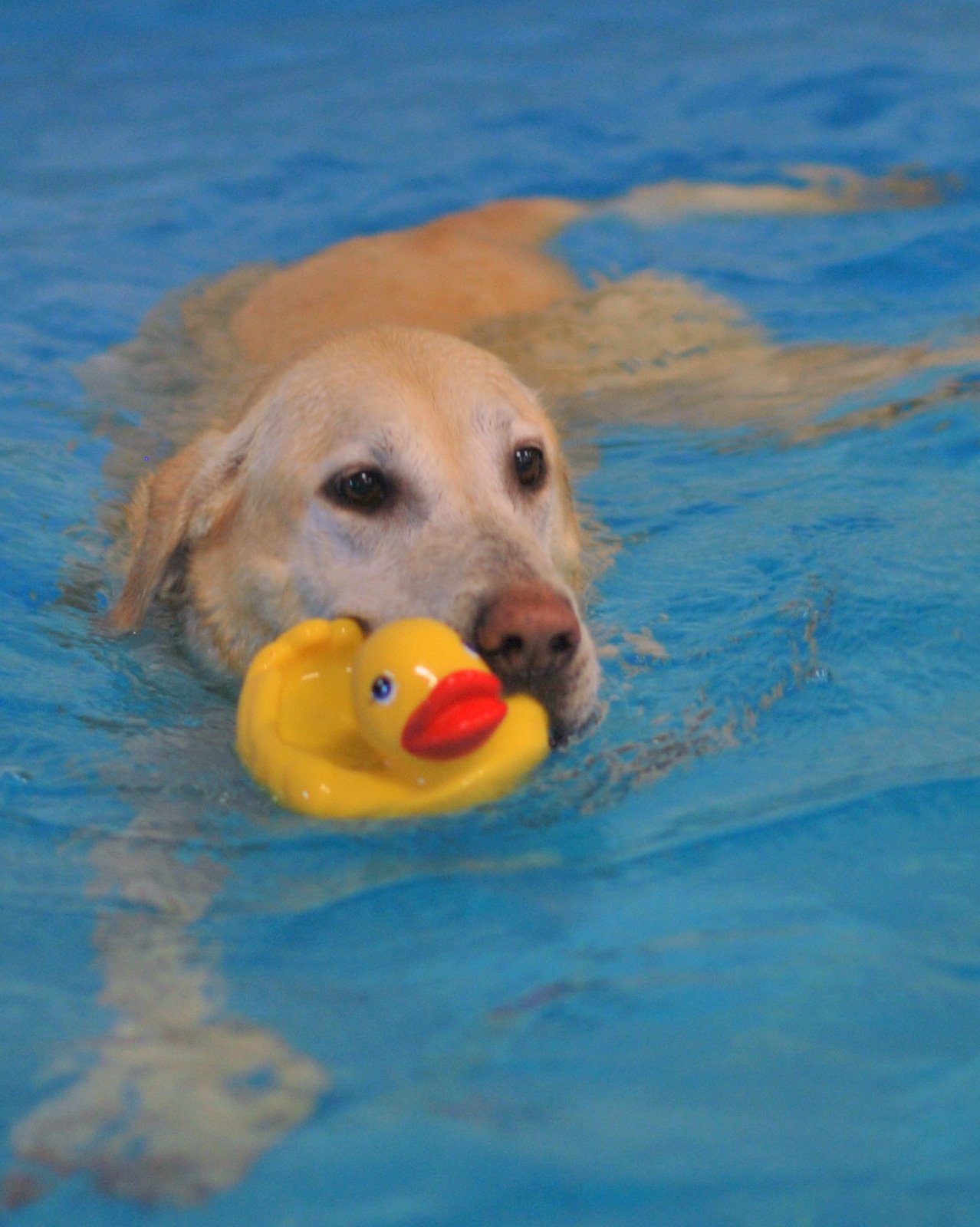 Call or email to visit facility to see and ask questions. 20 minutes of swimming will be more than most dogs can do in any one session. Longer swim periods can be arranged at an additional fee.


POOL RULES:
All swimmwers must be clean and brushed at home before appointments.
Do not feed your dog for at least 3 hours before swim time.
Be on time and exercise your dog in the areas we provide.
Please Read Cancellation Policy
Bring towels, combs, brushes, shampoo, etc.
Bring floating toys to retrieve.
Pool is for dogs and "Swimming Paws" staff only.
If a dog is judged in need of grooming before swimming it may be denied acces to the pool for the protection of others. Again, please groom at home.
All swimmers must be in good health and up to date on shots.
No females in heat.
Please leave after-swim area as you found it.